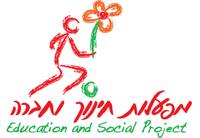 6 teams from
"Mifalot: Sport for Education, Development, and Peace"
arriving to Beit Theresienstadt in Kibbutz Givat Haim Ihud. They visit the museum, learning about the life and death in the Ghetto, and then they're going to the soccer field to play. The teams in the tournament are called after teams that were in the Ghetto.
This time Druze youth players are coming, following the "Co-existence" project with the Druze communities in Mt. Carmel.